Welcome to St. Elias the Prophet Church
419 N. Grandview Ave.
Dubuque, IA 52001
563-583-5902
Facebook: www.facebook.com/StEliasProphet
---
Services Schedule
Saturdays
Vespers, 4 pm
Sundays ­-
Orthros, 9 am
Divine Liturgy (Orthodoxy's main service), 10 am
Sunday School, following communion
Bible Study ­–
1st and 3rd Wednesdays at 10:00 am

Great Lent Schedule –
Presanctified Liturgy, 6 pm, Wednesdays of Great Lent (March 1st - April 5th)
Akathist (Salutations), 6 pm, Fridays of Great Lent (March 3rd - March 31st)
Holy Week and Pascha (Easter), April 10th - April 16th –
Monday Night - Bridegroom Orthros, 6 pm
Tuesday Night - Bridegroom Orthros, 6 pm
Wednesday Night - Holy Unction, 6 pm
Thursday Morning - Vesperal Liturgy for the Last Supper, 9 am
Thursday Night - Passion Gospels, 6 pm
Friday Afternoon - Unnailing Service, 1 pm
Friday Night - Lamentations Service, 6 pm
Saturday Morning - First Resurrection Service, 9 am
Saturday Evening - Main Resurrection Service, 11 pm
Sunday Afternoon - Vespers of Love, 4 pm
For more information on our services please contact the Church office at (563) 583-5902 between the hours of 9:00 AM - 4:00 PM, Monday through Thursday.
---
---
MISSION:
St. Elias Church is dedicated to spreading the gospel of Jesus Christ in accordance with the Orthodox Christian tradition.
VISION:
We seek to fulfill our mission by:
SUPPORTING the Church's ministries through stewardship of time, talent, and treasure.

HELPING one another and our community through service and charitable outreach.

AFFIRMING a new life in Christ by living Orthodox Christian morals and virtues.

PROVIDING a welcoming, caring, and loving environment for all.

EMBRACING the spiritual life of the Orthodox Church through regular prayer, worship, and frequent participation in the sacraments.

ESTABLISHING a communion of friendship and fellowship for members and their families.
---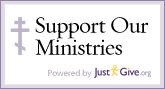 The Church
The life of the Orthodox Church perpetuates and fulfills the ministry of Jesus Christ. The close association between Christ and His Church is reflected in the images from the Scriptures which declare that Christ is the Head and the Church is His Body, and that Christ is the Bridegroom and the Church is His bride. Learn more»